ONE: CREATE GORGEOUS EMAILS IN MINUTES
In Flodesk, you can create beautiful layouts that make your emails look like they're coming from a big brand with an entire marketing + design team (think: Anthropologie aesthetics with Canva's click and drag functionality—it's downright magic!).

The Flodesk team has built proprietary technology that allows you to add custom fonts into your emails that display correctly every time—no other platform has this! You can also see how your emails will look on desktop and mobile so that your email display seamlessly across all devices.
You can also save your brand colors and logo in your account settings to make transforming templates a breeze.
TWO: GROWING YOUR LIST IS A BREEZE

Flodesk makes it easy to build your subscriber list. You can launch a lead magnet in minutes. Simply create a form, customize it to match your brand, paste the HTML onto your blog or website and direct your audience to download your magnet.
It only took me five minutes to build the subscription page on my website and it looks great on desktop and mobile.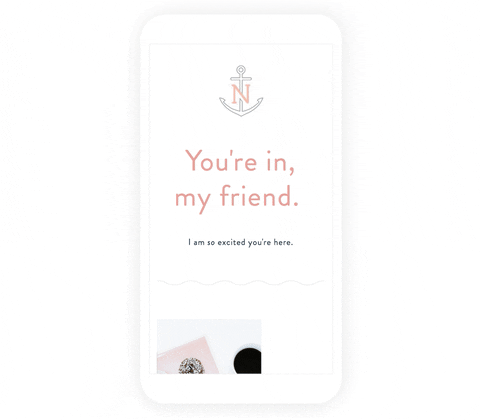 With other platforms, I always felt like the form functionality was clunky and hard to customize. I'd spend hours trying to get everything to line up just right. Flodesk has simplified the process and put the power back into your hands.
And I really love the analytics overview for each email. It's super informative and yet easy to understand—giving you insights that can improve your marketing performance.
THREE: THE PRICING STRUCTURE

Other platforms punish you for growing your list. The more subscribers you add, the more you pay each month. Flodesk is different.

For a single monthly fee, you get unlimited subscribers and access to all features. And they are enabling members of their private beta (like me) to offer you 50% off your Flodesk subscription. That means rather than paying $38 per month, you can get access for $19 per month for a lifetime. Y'all that is an amazing deal. (And there is a good chance Flodesk will raise prices once they are out of the private beta—so jump on it now to lock in your rate!)
Before Flodesk, I was paying 10 times that every month to use ConvertKit.
I love that this platform doesn't raise your monthly fee as you grow your list. That's a pricing structure that I can get behind.
FOUR: ZAPIER INTEGRATION

The minute Flodesk integrated with Zapier all bets were off. For those who aren't familiar: Zapier is an automation tool that connects over 1,500+ web apps instantly. Now that Flodesk and Zapier are natively integrated, it is even easier to grow your email list, amplify your marketing efforts, and increase your sales by leveraging simple to use integrations.
Through Zapier, you can integrate Flodesk with platforms like: Shopify, Woocommerce, WebinarJam, Crowdcast, HoneyBook, Slack, TypeForm, Asana, Trello, and much more.


BONUS: ADD YOUR INSTAGRAM FEED

Oh, and for a time saving hack, you can easily pull your Instagram feed right into your email! It gets updated automatically and keeps your welcome sequence super relevant by pulling your latest content right into the email. Using this feature to leverage my existing Instagram content is becoming one of my favorite productivity hacks when it comes to email marketing.
I also invite you to subscribe to my newsletter to see these emails in action. I send a weekly email that's packed with stories, business tips, doodles, and industry happenings.
Disclaimer: This post includes affiliate links and I would love if you decided to use them. Affiliate links + referrals programs help educators like me to fund the free content that we provide on our blogs.
To take advantage of my referral offering, use the code NATALIE at checkout!